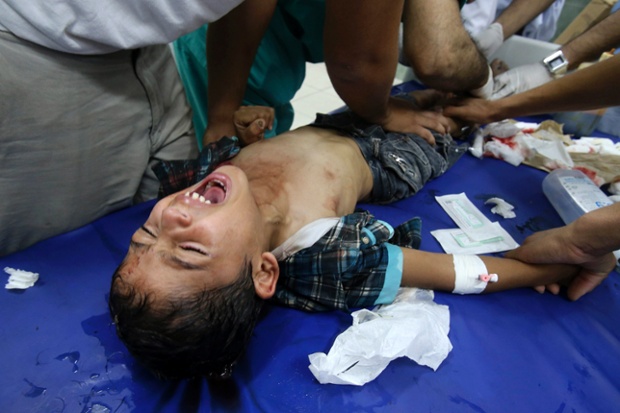 Addressing Christian supporters, ambassador to the US says 'Israeli soldiers are dying so that innocent Palestinians can live'
Times of Israel
The Israeli army should be given the Nobel Peace Prize for its "unimaginable restraint" in Gaza, Israel's ambassador to the United States, Ron Dermer, said Tuesday.
During an address at the Christians United for Israel Summit in Washington, Dermer was interrupted several times by hecklers, but delivered a passionate and warmly received speech in defense of Operation Protective Edge, calling Iran the "Great Evil" and accusing the United Nations and human rights groups of inadvertently aiding Hamas in its war against Israel.
"Some are shamelessly accusing Israel of genocide and would put us in the dock for war crimes," Dermer said. "But the truth is that the Israeli Defense Forces should be given the Nobel Peace Prize… a Nobel Peace Prize for fighting with unimaginable restraint."
Dermer's comments followed a statement issued by Foreign Minister Avigdor Liberman, who on Sunday said that the IDF is the "most humane and bravest army in the world."
During World War II, the British army responded to German attacks with the "carpet bombing of German cities," Dermer said. While he was unwilling to criticize the United Kingdom for doing so, he continued, "at the same time, I will not accept, and no one should accept, criticism of Israel for acting with restraint that has not been shown and would not be shown by any nation on earth. I especially will not tolerate criticism of my country at a time when Israeli soldiers are dying so that innocent Palestinians can live."
At that point in Dermer's speech, given to a packed auditorium of Christian Israel supporters, he was interrupted by hecklers. "There is a section for moral idiots at the back of the room," he responded, according to a transcript of the speech posted to his Facebook page.
"Israel did not have to send its soldiers into many of the places they are fighting today. We could have given people time to evacuate these areas — which we did anyway — and then bombed from the air all the buildings that were being used by fighters to store and fire weapons. But we didn't. As we have done time after time, we are sending our soldiers into this hornet's nest of Palestinian terror that is booby-trapped with mines and riddled with subterranean tunnels."
Israel has been harshly criticized for the high number of casualties in Gaza during the current conflict with Hamas. More than 580 people, many of them civilians, have been killed since the IDF launched Operation Protective Edge on July 8, according to Palestinian sources. Israel has lost 27 soldiers in its effort to end rocket fire from terrorists in Gaza, thwart Hamas "attack tunnels" and restore calm to Israel's cities.
Rather than censure, Dermer said, Israel deserves the international community's admiration, as no army in history has taken greater care than the IDF to protect innocents.
Observers of the conflict should keep in mind the "moral difference" between Israel and Hamas, the US-born Israeli diplomat said. "It is a battle between a compassionate country that's dropping leaflets, making phone calls and sending text messages to save Palestinian civilians, and a brutal terror organization that uses hospitals as military command centers, manufactures rockets next to mosques and turns UN schools into weapons depots."
Hamas is "doing everything to put Palestinian civilians into harm's way – by ignoring IDF warnings to evacuate, by forcing Palestinians to serve as human shields, and by placing missile batteries next to playgrounds, hospitals and homes," he said. "And you know why Hamas is doing this? It's not only because of the evil they represent – and it may not be politically correct, but they are evil. After all, an organization that is capable of producing scores of suicide bombers doesn't care a whit about Palestinian civilians losing their lives.
"But Hamas also uses its strategy of human shields because it works… Because time after time, when Palestinian civilians die, when those heart-wrenching pictures of women and children appear on television – pictures that would move any decent human being – the blame is placed on Israel and the pressure is put on Israel."
The IDF, on the other hand, is doing everything to get Palestinian civilians out of harm's way, said Dermer, a close confidant of Prime Minister Benjamin Netanyahu.

Negotiations were given another four months after Tehran refused to relinquish its uranium enrichment capabilities
Times of Israel
AIPAC said it was "deeply disappointed" in the terms extending the Iran nuclear talks for four months.
"Despite our support for talks, we note that Tehran has yet to indicate a willingness to dismantle any element of its nuclear infrastructure," the pro-Israel lobby said in a statement Monday in response to the extension of the July 20 deadline to November 24 announced Friday.
"We are concerned that rather than coming into compliance with UN Security Council resolutions, Iran will try to use the recently announced extension of talks to break the international coalition and advance its nuclear weapons program," the statement said. "We are deeply disappointed that the P5+1 has offered even more economic relief to Iran."
The P5+1 refers to Russia, the United States, China, Britain, France and Germany, the major powers negotiating with Iran since January to come up with a long-term sabnctions relief for nuclear rollback formula.
"Economic pressure brought Tehran to the negotiating table, and increased pressure is critical to any reasonable prospect for reaching a good agreement," the American Israel Public Affairs Committee said.
US Secretary of State John Kerry said Iran has abided by the terms of the interim nuclear rollback governing the talks but gaps remain.
Iranian Foreign Minister Javad Zarif has suggested that the gaps are over the means by which Iran reduces its uranium enrichment capacity.
Iran seeks to keep its centrifuges while subjecting them to an inspections regimen. The United States wants Iran to dismantle a majority of the centrifuges and impose a tough inspections regimen on those remaining. Israel says the centrifuges should be totally dismantled.
Kerry also said there would be $2.8 billion in sanctions relief during the next four months in addition to the $4 billion to $7 billion under the formula governing the current talks.
Obama administration officials have said the effect of the interim sanctions rollbacks have been negligible and that Iran's economy continues to suffer from sanctions.

Nissim Sean Carmeli, 21, from South Padre Island, Texas, and Max Steinberg, 24, from Los Angeles, were killed early Sunday
Times of Israel
Thirteen seemed like a lucky number for Max Steinberg. He was a member of the August '13 draft class of the 13th Battalion of the Golani Brigade. Even on leave in far-off California, where he was raised, Max told his army buddies that his snowboard bore the number.
But on the thirteenth day of Operation Protective Edge, Max was one of 13 soldiers killed in heavy fighting in the Shejaiya neighborhood of Gaza City, in the northern part of the 40-kilometer-long Strip, a Hamas stronghold that is home to some 100,000 people.
Steinberg, 24, served as a sharpshooter in Golani and lived in Beersheba, but he was a native of the Los Angeles suburb of Woodland Hills, CA. He attended Pierce College and El Camino Real High School, but fell in love with Israel during his first visit to the country on a Birthright Israel trip in June 2012.
When he returned, he told his parents that he was planning to return and join the IDF, Steinberg said. He made good on that promise less than six months later.
Steinberg arrived in Beersheba in fall 2012, and quickly found himself under fire from the barrage of rocket fire from the Gaza Strip that pounded the southern city.
Steinberg his sights on enlisting into the Golani Brigade, first attending Michve Alon, an IDF program preparing immigrants for military service. In late July 2013, he began basic training in the Golani Brigade.
On Sunday night, friends and community members organized a gathering in Steinberg's honor near the town in California where he lived.
"He was completely dedicated and committed to serving the country of Israel," Steinberg said. "He was focused, he was clear in what the mission was, and he was dedicated to the work he needed to be doing."
Stuart Steinberg last spoke to his son at 4 a.m. California time Saturday, hours before his death. Max Steinberg called his father to tell him that his group had been injured when two of their armored vehicles collided. They had to return to Israel for treatment. Some soldiers had broken bones, and Max Steinberg had sprained his back, his father said.
"He called me up at 4 a.m. that morning and said he'd be returning to Gaza, back to combat, to be with his friends," Steinberg said.
Steinberg said the family is leaving on Monday for Israel, where their son will be buried.
Steinberg last visited the US in April. On returning to Israel, he wrote that the return was "bittersweet."
Responding to a friend from his Golani unit, Steinberg said that it was "hard saying bye to my family and friends back in cali.. but love you guys so it's not too bad." He noted, jokingly, that even his snowboard in California displayed the number "13", a tribute to his unit – the storied 13th Battalion.
Even while serving as a lone soldier, Steinberg looked out for his fellow troops. In February, he set as a goal "to help raise money for the troops, specifically for the guys I serve with."
Describing as "unforgiveable" the shortages that soldiers face, Steinberg used social media to urge his friends and family members in the States to donate money to his unit.
"We could really use the help now more than ever," Steinberg wrote. "I know things aren't easy back home in the states, but if you or someone you know can help we would be beyond grateful."
A Facebook page set up after his death was inundated by anti-Israel hecklers, even as members of the California community attempted to voice their support and condolences to Steinberg's family.
Max is survived by his parents, Stuart and Evie Steinberg, and by his brother Jake and sister Paige.
The other American killed overnight was Sean Carmeli, 21, of Raanana and South Padre Island, Texas. Sean's parents — Alon and Dalya Carmeli — are Israelis who moved to the Texas island known in America as a vacation party spot. But surrounded by flocks of college students who migrate to the island during spring break, the Carmelis were at the heart of a 75-person strong Jewish community that grew more unified over the years. As community leaders, the Carmelis helped to build a local synagogue and hire a rabbi.
According to the local Chabad rabbi, Alon Carmeli purchased the community's first Torah scroll and dedicated the synagogue in memory of his father-in-law, Nissim Buganim – Sean's namesake.
Rabbi Asher Hecht, co-director of Chabad of the Rio Grande Valley, met Sean in summer of 2006 when he and a friend ran a day camp for local Jewish children. He described Sean as a "kind, gentle boy" who served as a "kind example to everyone else."
By 2009, Sean had joined his two older sisters in Israel, where he enrolled in the Ostrovsky School in Ra'anana for high school. Sean stayed in touch with other members of the South Padre community who also moved to Israel, while making a close cadre of new friends in his new community.
The dual citizen opted to study in a Jerusalem yeshiva before enlisting in the Golani Brigade, where he served with distinction.
Hecht, who visited Sean in Jerusalem, said that during preparation for his final operation in Gaza, Sean's commander told him that he did not have to participate due to an injury to one of his feet. Sean, whose friends describe him as loyal, insisted on joining his unit in the operation.
Sean is survived by his sisters, as well his by his parents, who flew to Israel immediately upon being notified of their son's death.
Following the costly day on Sunday, the Jewish Federation of North America issued a statement saying that "Jewish Federations across North America express our deepest sympathies to the families of 18 Israeli soldiers killed fighting the Iranian-backed Hamas in Gaza over the past two days. Along with all of Israel, and the entire Jewish People, we mourn their loss as if they were our own."
The statement noted the loss of the two Americans among the 13 Golani soldiers killed on Sunday.
Also on Sunday, US State Department Spokeswoman Jen Psaki issued a terse statement saying that the State Department "can confirm the deaths of U.S. citizens Max Steinberg and Sean Carmeli in Gaza."
"Out of respect for those affected by this, we have nothing further at this time," she concluded.